01 Mar

The GPO – The Metquarter, Liverpool
Pioneering Culinary Innovation Through Cutting-Edge Technology
Cutlery Works Sheffield stands tall as a beacon of culinary innovation, combining the rich heritage of Sheffield's cutlery industry with state-of-the-art technology to redefine the dining experience. As one of the UK's leading food halls, winning the title of Best Food Hall in 2022 from the British Street Food Awards, Cutlery Works has transformed the way people dine, leveraging advanced technology to offer unparalleled convenience and efficiency. From seamless Wi-Fi connectivity to intelligent data capture and an intuitive table app ordering system, Cutlery Works has revolutionised the restaurant industry, making it a true trailblazer in Sheffield's dining scene. POSUP was instrumental in helping pick and choose the correct technology to power Cutlery Works.

At the heart of Cutlery Works' technological prowess is its robust Wi-Fi infrastructure. By providing reliable and high-speed internet access, the venue ensures that patrons can stay connected while enjoying their meals. Whether it's for work, ordering food through the table-ordering app, socialising, or simply sharing their culinary experiences online, guests can rely on Cutlery Works' Wi-Fi to stay connected effortlessly. The 'Cutlery Workspace' scheme allows customers a speedier Wi-Fi connection, plus unlimited batch tea or coffee for just a fiver!
Data has become a powerful tool in the hospitality industry, and Cutlery Works has harnessed this potential to optimise its operations and enhance customer experiences. The establishment employs sophisticated data capture mechanisms to gather insights into customer preferences, peak dining hours, popular dishes, and more. This valuable information allows the management team to make data-driven decisions, create targeted marketing campaigns, and constantly refine their offerings based on customer feedback.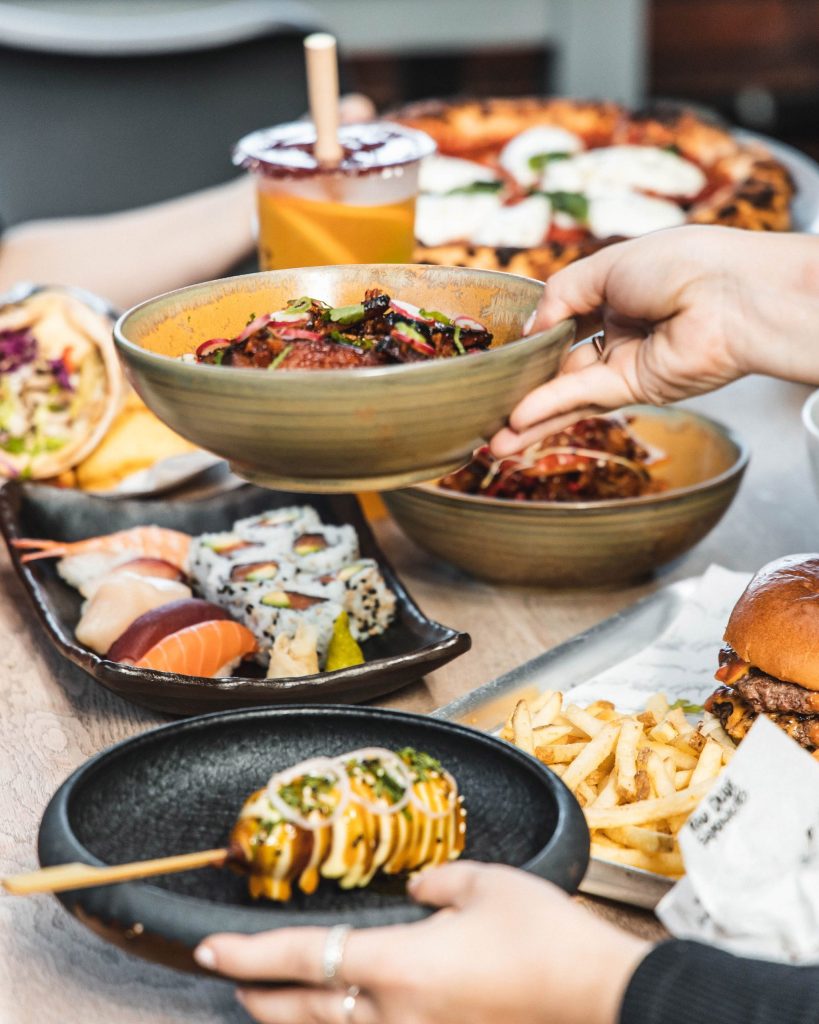 Cutlery Works stands out not only for its culinary diversity but also for its ingenious automatic promotion systems. The establishment utilises intelligent algorithms to analyse customer behaviour, ordering patterns, and feedback. Based on these insights, personalised promotions and recommendations are automatically sent to customers through the table app or via email. This tailored approach enhances customer engagement, encourages repeat visits, and cultivates a loyal customer base.

The implementation of a unified point-of-sale (POS) system is a crucial component of Cutlery Works' technological marvel. The food hall seamlessly integrates all vendor POS systems into a single, centralised platform. This unified POS system streamlines transactions, facilitates inventory management, and simplifies accounting processes. For vendors, this translates to smoother operations and better visibility into their businesses, enabling them to focus on delivering exceptional dishes to their customers. For management, this allows full transparency on everything going on in the food hall, so rent and commissions can be calculated accurately. Data can be exported easily, and used effectively for predicting sales in the future.

Changing App-Ordering Perceptions
Cutlery Works' table app ordering system sets a new standard for efficiency and convenience. Customers can now explore the diverse menus of various vendors at the food hall right from their smartphones. By simply scanning QR codes on their tables, guests can browse through menus, place orders, and pay directly through the app. This streamlined approach not only minimizes wait times but also enables a more personalised dining experience, as patrons can easily customise their orders to suit their preferences.
The system is even used to allow customers to see 100% up to date menus before they even visit the food hall, showcasing any specials the vendors have on, and giving people a taste of the food hall from home.


Cutlery Works' stock system is a sophisticated platform that ensures smooth and well-organised inventory management. Leveraging the power of real-time data, the stock system tracks the availability of ingredients and supplies at the bar. This information is accessible to the management team, allowing them to monitor stock levels and promptly replenish items to avoid shortages or waste.
Through an integrated interface, vendors receive alerts when their supplies are running low, facilitating proactive stock management. This system also allows the food hall to maintain consistent quality and avoid disruptions in service, providing a seamless dining experience to customers.
One of the key highlights of Cutlery Works' technological prowess is its intelligent purchase ordering system. Powered by data analytics and predictive algorithms, this system revolutionises the way the bar places orders with suppliers. By analysing historical sales data, seasonal trends, and upcoming events, the system can accurately predict the demand for specific ingredients and supplies.
The intelligent purchase ordering system enables the bar to place automated and optimised orders based on real-time sales data and projected demand. This minimises the risk of overstocking or under-stocking, reducing waste and optimising inventory turnover. Additionally, the system aids vendors in making informed purchasing decisions, allowing them to negotiate better deals with suppliers and optimise costs.
The Future for Cutlery Works
The owners of Cutlery Works shortly opened another food hall in Liverpool called The GPO, and are looking at opening 3 other food halls, with POSUP at the helm, ensuring all the technology proves to be just as effective as it has been in Cutlery Works.
Find Cutlery Works at:
Website: Cutlery Works
Instagram: @cutleryworks